Get top fabrics like Typar, Propex, Thrace-Linq, Mirafi, Tensar, and more
Specifically designed to withstand the construction process, these fabrics were made with heavy-duty work in mind.
These engineering fabrics are perfect for keeping large amounts of loose build materials tightly together so they can provide a solid base. So whether you're laying down miles of road or widening your driveway, use the fabrics made for easier installation.
At Dooley Bros., we believe our experience, manufacturing capacity and personal service make us the right choice for your geo-synthetic needs.
Whatever your geo-synthetic need, Dooley Bros. has it covered:
Applications:
Drainage
Erosion control
Filtration
Protection
Reinforcement
Separation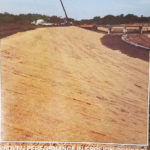 Fabric types:
Wovens
Nonwovens
Medium strengths
Monofilaments
Get the fabrics tough enough to handle any job